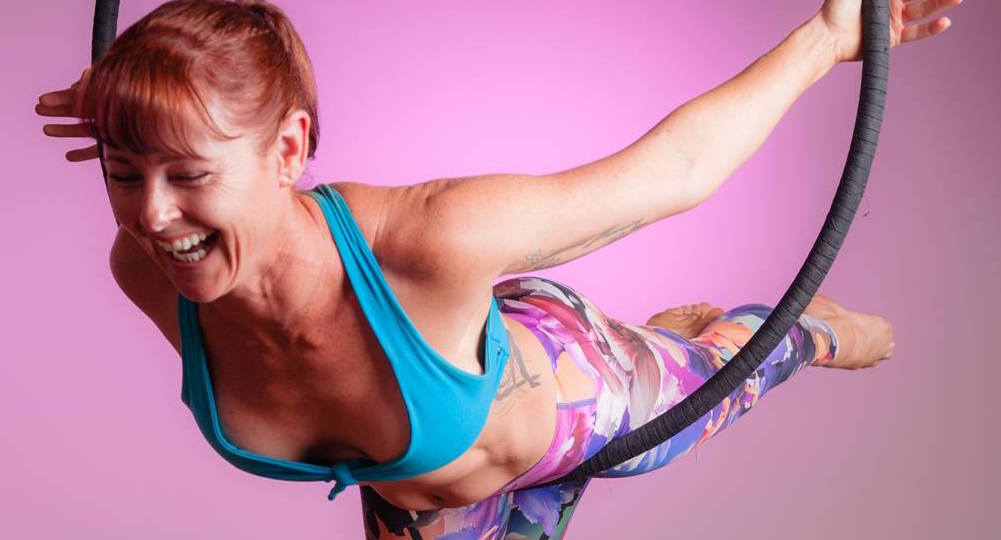 Lyra (aerial hoop)
Lyra is an elegant form of aerial dance which brings together gracefulness, strength and breathtaking beauty!
The Lyra courses focus on strength building sequences and routines, flexibility, graceful poses and building student comfort working at heights. You will learn beautiful, fluid routines performed to the latest(and beautiful) tracks, that will build your performing stamina up to managing minutes at a time within the Lyra.
Thinking of starting Lyra with Shemoves? Here's just some of the extras we offer!
Free practice time on the lyras at Shemoves East Perth studio

A generous 'make up' class option (if you miss a class during your course, you can make it up in another course running at the same level - subject to availability

Weekly or fortnightly payment plans at no extra cost

Half price repeating option - you can repeat any completed Lyra level for half price as many times as you wish!
Wondering what to wear? Standard gym attire is perfectly fine and we recommend full length leggings and a top that is close fitting and covers under your arms (eg a t-shirt with sleeves rather than a singlet top) We dance in bare feet too so just bring a hand towel and water bottle!
| | | |
| --- | --- | --- |
| Lyra Level | Description | Pre-requisite |
| Level 1 | Beginner level routine | None |
| Level 2 | Intermediate level routine | Level 1 |
| Level 3 | Intermediate plus level routine | Levels 1 & 2 |
| Doubles | 2 friends, 1 lyra! | Level 1 |
| Level 4 | New moves, sequences and transitions | Level 3 |
About our Lyra courses
What are the benefits? A new perspective on core conditioning work and upper body muscle toning within a graceful and challenging aerial dance form.

Experience required: None!
Course length : Each level is 6 hours long (6 x 1 hour lessons once a week from a specific start date - see start dates below)
Cost : $195 (6 hour course)
See below for next course start dates!
NB : if you are a repeating student (ie you want to repeat the course again), its half price! Make sure you put '0' in the box next to Adult, and '1' in the box next to Repeating student box (see below) in order to make a half price booking!
Timetable
Let us help!
Everyone in our office is also an Instructor, so let us help you find the best class for you!